The Bell Hotel Investigation
The Bell Hotel - 1st April 2012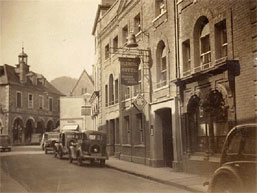 The team decided that a 2nd visit to The Old Bell was very much needed, after a successful investigation in January 2011.
We arrived on site and met with staff to confirm which areas we had access to, and which members of staff would be remaining on site. We were pleased to be told that we would have total access apart from the bar area downstairs. This included Rooms 6 to 9 which we were keen to investigate after our last visit.
As we had previously investigated this building, we knew which areas we were keen to concentrate on. We placed trigger objects in key areas, which included the main corridor between Rooms 6 and 9, and Room 6 itself.
During the evening Rooms 8 and 9 proved to be fairly quiet, though the team did report various knocks and taps, and scratching noises.
The corridor proved to be interesting on this visit, as all of the team reported hearing creaking and what at times sounded like movement in the corridor. At one point one member of the team placed herself in the corridor, but nothing was seen or heard whilst she was there.
Our main investigation took part in Room 6. As per our previous visit, members of the team reported a very strange heavy atmosphere which gave a feeling of unease at times.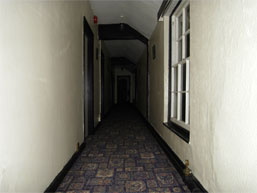 During our time in this room, several female sounding moans and groans were heard. In the bathroom area, several members of the team took turns to sit alone, and all reported experiencing cold shivers and/or hearing knocking sounds, and also seeing some forms of light in the doorway area.
We tried glass divination at one point and were quite surprised by the results. At one point we experienced what felt like the glass moving from side to side but from the bottom of the glass, and several team members that took part also felt a buzzing energy going through their fingers.
Thank you to all the staff at The Old Bell Hotel for having us, coming back was certainly not disappointing.