The Bear Inn Investigation
The Bear Inn - 8th January 2012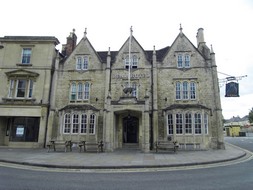 The Team made a return visit to the Bear Hotel, having previously gone in there a year ago. On our first visit some team members experienced stones being thrown in the cellar and so we were keen to get back and check if this was still happening.
We met those in charge of The Bear and had a discussion with them on what was going on currently and what areas we would have access to.
We walked around before the vigil to determine what areas to focus on, what equipment we would use and where we would place trigger objects.
Once we had set up most of the Team went down into the cellar, while one member went into the bedroom. He later joined us in the cellar as there appeared to be no sign of activity there.
Members of the Team took turns at calling out and asking questions. We tried to recreate the last visits stone throwing but got no reaction this time. On several occasions the temperature dropped and there was an uneasy feeling amongst the team, one member described a feeling like something was blowing cold air in their face and hair but overall it was mostly uneventful.
We came upstairs after a few hours and split into three groups covering the lounge and bar areas which were next to each other. Members reported seeing shadows and a few strange noises but no real activity was felt.
We then decided on a table tipping session. Nothing appeared to happen so we used an upturned glass trigger object. Linking hands and placing a finger lightly on the glass, one member described feeling a sudden bolt of energy shooting through them.
We asked for the glass to be moved and it did seem to make a very slight but definite movement, we cannot be sure if this was done buy one of us unintentionally but on review of our audio and video evidence you can hear a strange whisper voice that is not one of us straight after this happens.
At one point we asked if there was anyone in the cellar and if they could make a noise for us, as we asked this a loud noise came from the cellar area. We investigated afterwards but could not explain what made it.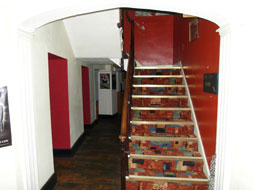 The Team had a discussion about this afterwards and agreed it was certainly interesting and something to think about, we will certainly try this again.
On review of our evidence we caught some strange whisper e.v.p's in the bar and cellar area and unexplained knocking that seemed to happen on request. On video we caught an amazing orb that moves with purpose and changes direction, we usually put any orbs down to dust or insects but this was different to any other orbs captured on video.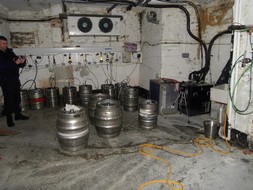 A.P.T would like to thank everyone at the Bear for their hospitality and giving us access to investigate this great building.